This week was so simple yet so much fun. We started off the hour by reading Chalk by Bill Thomsom.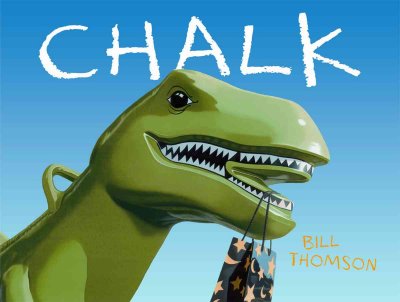 I chose this book because this day also happened to be our department wide Chalk Day! Chalk is a wordless picture book about a group of children who find magic chalk on a rainy afternoon. Their chalk drawings come to life and make their rainy day bright and magical! I knew I wanted this group to enjoy Chalk Day so we did not have time to play and craft the way we usually do.
I wanted to see if this group could do a step by step painting class in the future so I decided to test the waters by doing a page by page drawing exercise. To do this I set the kids up at tables with trays of crayons between each chair and plain paper. I stood at the front of the room with my book (Vincent Paints His House by Tedd Arnold) and a white board easel.
In this story Vincent has decided to paint his house white when a spider declares that it is his house and it should be red! On each page a new critter claims the house and thinks it should be a new color. In the end Vincent proclaims that it is his house and he will decide what color to paint it! Thankfully Vincent likes all the colors so everyone is happy in the end. This book is perfect for PK-1st grade because it is repetitive and not too long.
Since Vincent is painting his house I started the drawing exercise by encouraging the children to draw a rectangle on their page, then we added a triangle on top to create a house shape. They were free to add windows, doors, and more to their drawing.
When we got to the page with the Red Spider I asked them to pick a red crayon and put a spot of red anywhere on their house. Some wanted to add red flowers or a car so they did; I love their creativity! Each page added a new spot of color to their house so their house looked a lot like Vincent's at the end of the story. They were so proud of their work so we took a group photo.
After taking a ton of pictures (It isn't easy taking a group photo with so many kids!) we went outside for a snack and some sidewalk chalk fun. It was the perfect day to be outside cloudy and cool but no rain.
Haley Downer
Children's Assistant
hdowner@kendallvillelibrary.org